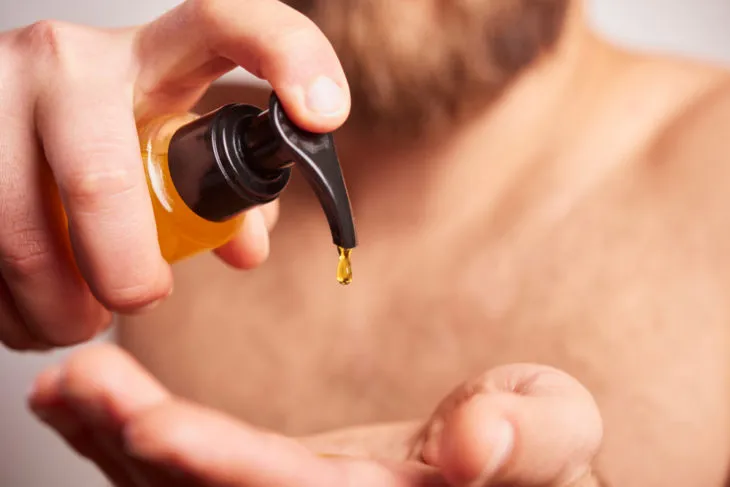 Beards are fun to sport (for those who can), but let's face it, they're also a little high maintenance. While we all know that one guy who just lets nature take its course, rocking a wild and unruly beard, we suggest following a more well-groomed and maintained path. A good healthy beard requires a little extra help from products like beard oil because facial hair is prone to harboring dirt, bacteria, and other unpleasant things. Beard oil also helps prevent dry and itchy skin underneath while also keeping the beard shiny and conditioned so that it can grow to its full potential.

The great thing about beards becoming more popular and trendy is that there are so many more products available! The downside is that it can be hard to know what products will give you the best results. To help navigate the market, we've compiled a list of the best beard oil products available that can promote growth while also preventing dryness and itchiness.
1. Tom Ford Conditioning Beard Oil
This product is made up of some of the best nourishing ingredients like almond oil, jojoba, grape seed oils, and vitamin E. This combination is nice and light, so your beard won't feel bogged down with heavy products. After using this product, your beard will not only look great, but feel good too. If you're picky about the fragrance you're wearing, don't worry. Tom Ford's beard oil comes in three different scents, so there are plenty of options. The most popular is the Neroli Portofino, but there is also Oud Wood and Tobacco Vanille — both of which are equally as great. It's available for purchase on the Tom Ford website for $57.
2. Beard Oil by Le Labo
Le Labo's beard oil is an amazing product that works best for sensitive skin because its formula is entirely plant-based. It works to hydrate the skin without irritating it, but also carries this really fresh lavender scent that has hints of bergamot and tonka bean. We can't promise this product won't cause strangers to lean in a little closer to get another sniff! You've been warned! If you apply this beard oil regularly, skin and facial fuzz will be in tip top shape and stay that way. In addition to all of this, this product comes in a huge 60ml bottle which means you'll get more bang for your buck! Pick up a bottle for $82.90 at Nordstrom.
3. Sartorial Beard Oil by Penhaligon's
It's safe to say that Penhaligon's knows what they are doing. They've got nearly 150 years of experience behind their products! This is why it shouldn't be surprising to anyone that their Sartorial Beard Oil made it onto this list. This product contains a fast absorbing blend of oils which includes grape seed, sunflower, and wheat germ. Each of these oils work to soften the coarse hairs of the beard, but also hydrate the skin underneath so that it doesn't become dry and itchy. You can purchase this product on the Penhaligon's website for $72.
4. The Grooming Oil 3-in-1 Shave & Beard Oil by Lab Series
This beard oil created by Lab Series is a triple action threat. Created with seal buckthorn, jojoba, and sweet almond oil, the Grooming Oil 3-in-1 Shave & Beard Oil can be used as a conditioner for the beard, as well as a shaving cream substitute. This is also a money saving hack because now you don't have to purchase a cupboard full of products!
Apply the oil pre-shave to prep the skin so that it's nice and smooth which will help enhance the glide of the razor. In addition to that, this product is transparent which means you'll be able to manage your shave with more precision. To finish off the whole process, it also provides a smoothness and shine that only a conditioner can provide. This product was created for all skin and hair types, so feel free to experiment with it, but experts say it's the most effective on short beards. The Grooming Oil 3-in-1 Shave and Beard Oil is available on the Lab Series website for $35.
5. Beard Oil by Baxter Of California
Similar to some of the other beard oils on this list, Baxter of California's beard oil boasts about its ability to absorb quickly into the beard so that it doesn't become overly greasy. This product was built on a formula of avocado oil, vitamin E, and squalane (a hydrocarbon emollient) which work together to soften the coarse hairs and keep them well hydrated so they don't become dry throughout the day. While it's geared more towards men with short to medium beards, it works on all skin types. Our favorite thing about this beard oil is that it contains botanical oils so you'll feel and smell as though you just got pampered with a hot-towel facial at the barbershop. It's available for $27 on the Baxter of California website.
6. Jack Black Beard Oil
This beard oil targets dryness and itchiness which is one of the most common problems with beards. Jack Black Beard Oil targets this issue by moisturizing the skin underneath. It's super light but still thick enough to absorb into the hair giving it a nice shine, soften, and light citrus-floral scent. This beard oil is also fast absorbing thanks to its melon oil and vitamin E so it won't feel greasy. What's even better is that this product is great for people with sensitive skin (and the environment) because it doesn't contain any alcohol or synthetic fragrances.
You'll also find that the pump dispenser makes application a lot easier than the dropper which is what most other beard oils have. While the Jack Black Beard Oil is a little more expensive, it's worth every penny. You can purchase it for $26 at Amazon.
7. Honest Amish Classic Beard Oil
The Honest Amish Classic Beard Oil is one of the top sellers on Amazon which already tells us this product is great! While it tends to be a little more thick in consistency, it's one of the best for conditioning. In addition to that, it targets skin health, beard growth, density. When it comes to scent, it's got the whole rustic manly thing going on. The Honest Amish Classic Beard Oil sports a woodsy scent that isn't too overbearing, but just enough to keep you feeling fresh throughout the day. No need to worry about putting any synthetics or preservatives into your beard because this oil is strictly natural. It's made of eight different purely organic oils like avocado, moringa, pumpkin seed, sweet almond, and argan. It's available for $12 at Amazon.