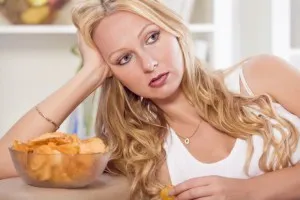 Have you ever wondered why, when the weather starts to dampen and a chill fills your bones why you crave starchy, heavy, fatty, surgery, cheesy, rich comfort foods as opposed to the light salads and lean, fresh grilled meats of summer?

Regardless of the obvious—a crisp cool salad does quite warm the laurels like a bowl of steaming hot chicken dumpling stew does on a cold winter day—why don't we reach for a nice, light bowl of soup instead?
There are actually two reasons why that might be…
1. You are genetically-driven to comfort foods
On one hand it's in your nature. As human beings, we have may have a genetic tendency to seek out more calorie-dense food in the winter months when food (was) historically harder to come by—especially fresh fruits and veggies. However, today, with us also being less active and perhaps a little more bored (if weather traps you indoors for days), anxiety and depression can very well lead to over-indulgence in front of the television.
2. You have Seasonal Affective Disorder
Further research shows that you also might be afflicted with seasonal affective disorder (or SAD) along with 1- to 3-percent of the population. This condition actually alters the chemistry of the brain and biological clock as a result of vitamin D deficiency (less sun) as well as the season's changing circadian rhythms change. SAD can cause mild to severe depression, increased appetite, and carbohydrate cravings.
In order to satisfy your comfort food cravings and maintain a trim waistline, you do have lots of healthy substitutes that can help you maintain a relatively trim waistline while satisfying winter hunger:
If raw veggies just won't cut it, try adding extras to sauces, puree them for hearty soups, or making a veggie-filled stew.
Swap starchy white taders for healthier, lower carb sweet potatoes.
Make cream soups, sauces and stews with Greek or low-fat yogurt instead of cream and butter.
Baked goods are alright in moderation—especially if you sub that white flour for whole-grain and that butter or oil with applesauce.
Make some time to get off the couch and do some physical activity. Even if you can't get outside, use a skipping rope while you watch your favorite sitcom or exercise at home using yoga or workout videos.
Source: CNN